HOTLINE
+86-0531-85667509
Address:Huaiyin District of Jinan City Road, No. 24566 ten
T e l:+86-0531-85667509
F a x:86-0531-85667508
E-mai:warwickpump@gmail.com

MOLTEN SALT PUMP
release time:2016/10/29
clicks:
MOLTEN SALT PUMP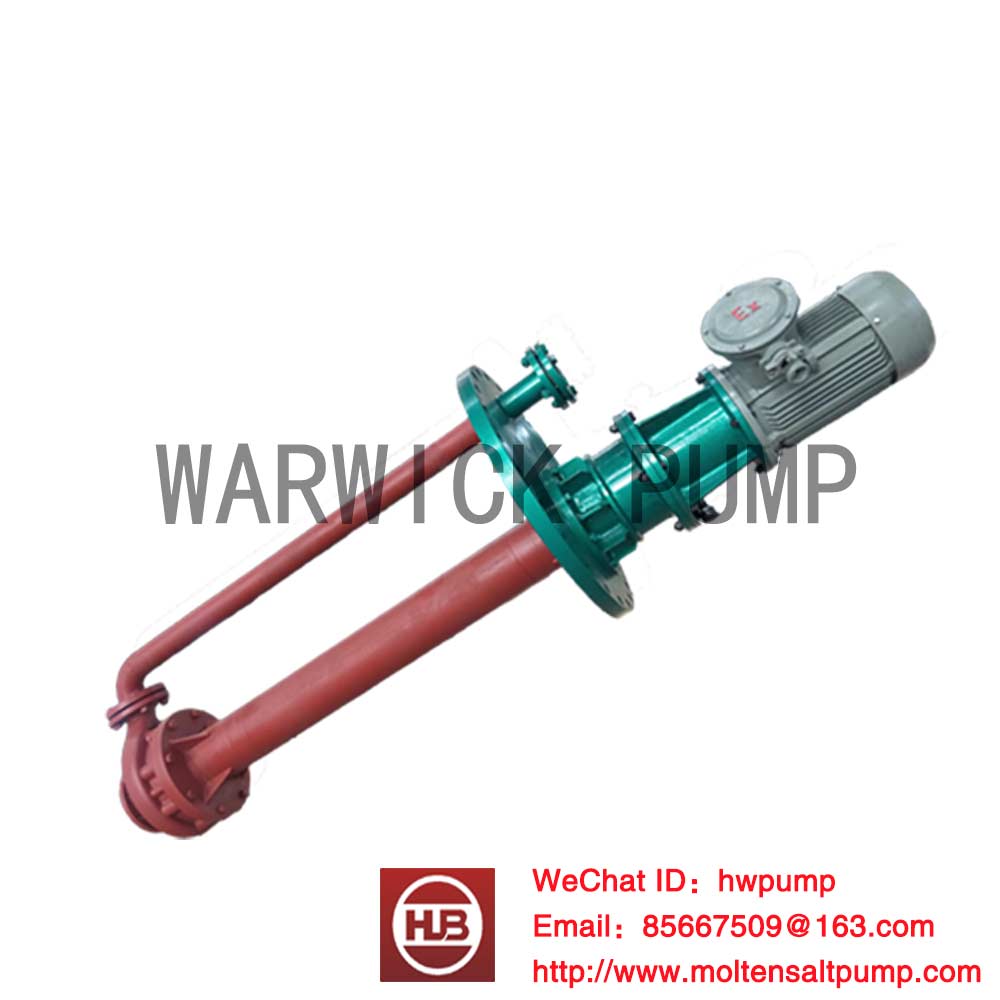 GENERAL DESCRIPTION
MS type molten salt pump is mainly products of Jinan Warwick Pump Co., Ltd. We independent research and development it and we have more than twenty years production experience. This is a special pump used to deal with high-temperature molten salt.
PERFORMANCE
Temperature (T): 180 ℃ ~ 580 ℃
Capacity (Q): 3 ~ 600 m3 / h
Head (H): 10 ~ 70 m
APPLICATIONS
The main applications of molten salt pump are as follows:
Replace the molten salt of bath furnace, Dissolution of alumina pipeline, Concentrated caustic soda, Phthalic anhydride production plant, Maleic anhydride production plant, Melamine production unit, Acrylic acid and esters plant, Legal Topsoe temperature acid, Castor oil production sebacic acid, Solar thermal storage, Seawater magnesium smelting with molten salt method, Waste lubricating oil recovery, Chemical oxidation reaction apparatus, and so on.
FEATURES
The MS type molten salt pumps suitable for long-term and reliable operation with high efficiency, smooth operation, small vibration, low noise, long life, easy maintenance and low maintenance costs.
TYPICAL PERFORMANCE TABLE
MODEL

CAPACITY
Q(m3/h)

HEAD
H(m)

EFF.
η(%)

POWER
P(Kw)

LENGTH
L(m)

GY32-125

6.3

5

45

1.1

0.8~3.0 

GY32-160

6.3

8

40

1.5

0.8~3.0 

GY32-200

6.3

12.5

33

2.2

0.8~3.0 

GY32-250

6.3

20

27

4

0.8~3.0 

GY50-125

12.5

5

55

1.5

0.8~3.0 

GY50-160

12.5

8

51

1.5

0.8~3.0 

GY40-200

12.5

12.5

46

3

0.8~3.0 

GY40-250

12.5

20

39

5.5

0.8~4.0 

GY40-315

12.5

32

33

11

0.8~4.0 

GY65-125

25

5

64

1.5

0.8~3.0 

GY65-160

25

8

62

3

0.8~3.0 

GY50-200

25

12.5

57

4

0.8~3.0 

GY50-250

25

20

50

7.5

0.8~4.0 

GY50-315

25

32

48

15

0.8~5.0 

GY80-125

50

5

69

3

0.8~3.0 

GY80-160

50

8

68

4

0.8~3.0 

GY65-200

50

12.5

68

5.5

0.8~4.0 

GY65-250

50

20

63

11

0.8~5.0 

GY65-315

50

32

58

18.5

0.8~5.0 

GY100-200

100

12.5

73

15

0.8~5.0 

GY100-250

100

20

72

18.5

0.8~5.0 

GY100-315

100

32

65

45

1.2~6.0 

GY100-400

100

50

55

55

1.2~6.0 

GY125-250

200

20

77

30

1.2~6.0 

GY125-315

200

32

75

45

1.2~6.0 

GY125-400

200

50

70

90

1.2~8.0 

GY150-250

400

20

79

75

1.2~8.0 

GY150-315

400

32

79

90

1.2~8.0 

GY150-400

400

50

78

132

1.2~8.0